La Puntual* offers special sessions for schools. These shows are for pupils between 2 and 10 years old and include a brief introduction to the history of and the making of puppets.
Our theatre is small and intimate, in the city centre, surrounded by a pedestrian area with easy access for coaches and emblematic city sights. Your pupils will see stories performed by fascinating and imaginative puppets, marionettes or shadows. The capacity of the theatre is 60 children plus teachers.
Puppet theatre has fascinated children for centuries. Well performed puppets shows can help children experience a wide variety of emotions, stimulate their imagination and creativity.
The shows available for schools are produced and performed by La Puntual or by other quality puppet companies.
The privileged location of "La Puntual" allows a variety of combinations when booking a show since it is near the Cathedral, Ciutadella Park, the Born Cultural Centre, the Picasso Museum, the Zoo, the Chocolate Museum and much more.
If you decide to come to see one of our shows with your pupils we are confident that you will be very satisfied!
Shows in English, Catalan or Spanish.
Price- 7,5€ + IVA (10%) per pupil.
*La Puntual: the name of the shop from Santiago Rusiñol's classic play "L'Auca del Senyor Esteve".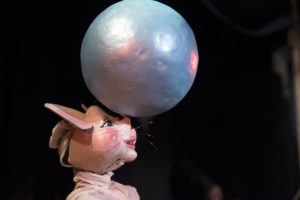 Greta the Mouse, that swept...
Greta is a mouse, and a great artist; she juggles, swings from the trapeze, walks the tightrope and... sweeps the theatre. While cleaning under the stage one night after the show, she finds a coin! Her friend, Rinaldo, a member of the backstage crew, advises her to buy a pretty bow to put on her tail, but Greta is determined: she will use it to produce a great show! Today is the day of the auditions to determine which animal will be her partner on stage. Will it be the ventriloquist Cock? Or the Pig visual arts performer? Or perhaps the Dog flea circus owner? Or perhaps the Donkey Magician? Or will she fall into the claws of the hypnotist Cat?