La Puntual* offers special sessions for schools. These shows are for pupils between 2 and 10 years old and include a brief introduction to the history of and the making of puppets.
Our theatre is small and intimate, in the city centre, surrounded by a pedestrian area with easy access for coaches and emblematic city sights. Your pupils will see stories performed by fascinating and imaginative puppets, marionettes or shadows. The capacity of the theatre is 60 children plus teachers.
Puppet theatre has fascinated children for centuries. Well performed puppets shows can help children experience a wide variety of emotions, stimulate their imagination and creativity.
The shows available for schools are produced and performed by La Puntual or by other quality puppet companies.
The privileged location of "La Puntual" allows a variety of combinations when booking a show since it is near the Cathedral, Ciutadella Park, the Born Cultural Centre, the Picasso Museum, the Zoo, the Chocolate Museum and much more.
If you decide to come to see one of our shows with your pupils we are confident that you will be very satisfied!
Shows in English, Catalan or Spanish.
Price- 7.00€ + IVA (10%) per pupil. Teachers free. Minimum 40 children.
*La Puntual: the name of the shop from Santiago Rusiñol's classic play "L'Auca del Senyor Esteve".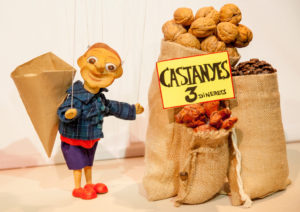 From 5th to 15th march, 2020
Patufet
Patufet is a very, very small boy. So small that he sleeps in a tin of sardines and hides under a cabbage leaf. So small that his parents are afraid that if he goes out into the street, people will not see him and ... chaf! But he is also very clever, brave and stubborn! This morning, when he got up, Patufet was absolutely sure; today will be a day full of adventures!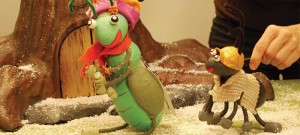 From 22nd to 31st may, 2020
Vivaldi, the Lobster and the Ant
This is the story of Gala, a singing lobster who doesn't like to work! Her friend Miga, an ant, the bee Bella and Serafí the mouse will help Gala discover that it is possible to sing and work at the same time. The inspiring "The Four Seasons" by Vivaldi is the sound track to this funny and yet poetical story.