La Puntual* offers special sessions for schools. These shows are for pupils between 2 and 10 years old and include a brief introduction to the history of and the making of puppets.
Our theatre is small and intimate, in the city centre, surrounded by a pedestrian area with easy access for coaches and emblematic city sights. Your pupils will see stories performed by fascinating and imaginative puppets, marionettes or shadows. The capacity of the theatre is 60 children plus teachers.
Puppet theatre has fascinated children for centuries. Well performed puppets shows can help children experience a wide variety of emotions, stimulate their imagination and creativity.
The shows available for schools are produced and performed by La Puntual or by other quality puppet companies.
The privileged location of "La Puntual" allows a variety of combinations when booking a show since it is near the Cathedral, Ciutadella Park, the Born Cultural Centre, the Picasso Museum, the Zoo, the Chocolate Museum and much more.
If you decide to come to see one of our shows with your pupils we are confident that you will be very satisfied!
Shows in English, Catalan or Spanish.
Price- 7,5€ + IVA (10%) per pupil.
*La Puntual: the name of the shop from Santiago Rusiñol's classic play "L'Auca del Senyor Esteve".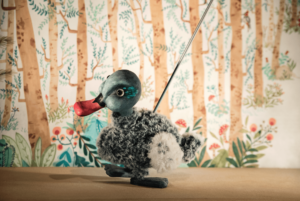 (Cat) Del 15 de març al 5 'abril de 2021.
The Ugly Duckling
"I'm not ugly, I have a distinctive beauty." These are the words of the Duckling when he leaves home on the adventure of his life. A challenging but happy journey, portrayed in a moving panorama with changes of seasons, encountering other animals and astonishing landscape. We invite you to accompany our "ugly" Duckling on this musical journey that will take you to a predictable, though not without surprises, end!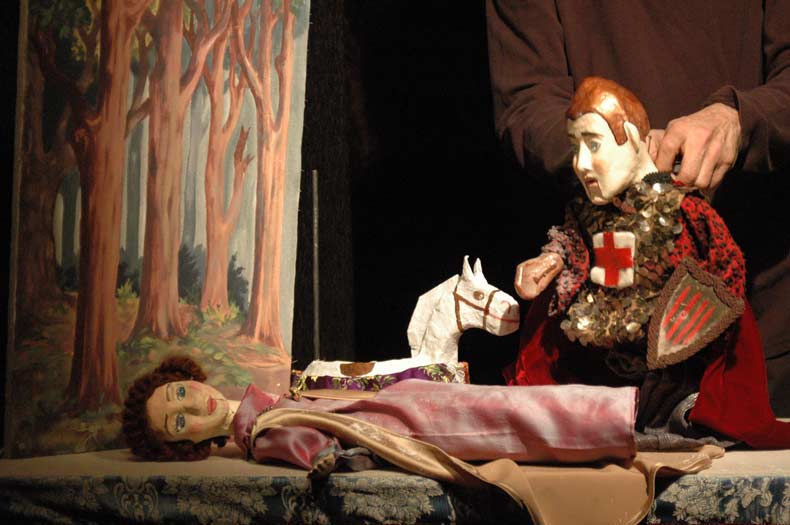 (Cat) Del 16 d'abril al 9 de maig de 2021.
Saint George, the Princess and the Dragon
Rinaldo travels back in time to explain the legend of the brave knight Saint George and how he saved the princess from being gobbled by a menacing dragon. We will meet numerous personalities who were present in the events of this story, full of passions, wonders, comedy and action.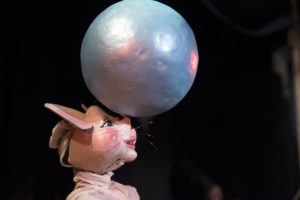 (Cat) De l'11 al 30 de maig de 2021.
Greta the Mouse... that swept the staircase.
Greta is a mouse, and a great artist; she juggles, swings from the trapeze, walks the tightrope and... sweeps the theatre. While cleaning under the stage one night after the show, she finds a coin! Her friend, Rinaldo, a member of the backstage crew, advises her to buy a pretty bow to put on her tail, but Greta is determined: she will use it to produce a great show! Today is the day of the auditions to determine which animal will be her partner on stage. Will it be the ventriloquist Cock? Or the Pig visual arts performer? Or perhaps the Dog flea circus owner? Or perhaps the Donkey Magician? Or will she fall into the claws of the hypnotist Cat?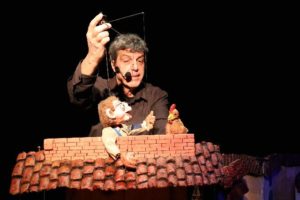 (Cat) De l'1 al 7 de juny de 2021.
Silly Peter
This story is a version of the Mallorcan tale "Silly Peter" that the Binixiflat Company has adapted for the puppet theatre. In every village, there is always one sillier than others. Peter is, they say, the silliest of the village. He talks to the animals, he trusts everyone and everyone laughs at him. Peter lives with his mother and never does anything properly. That is why they send him on simple errands such as going to sell honey or a piece of clothing. He always makes mistakes and his mother no longer knows what to do. They laugh at him and try to make fun of him. Maybe things are not always like that and the silly are not as unwise as they seem.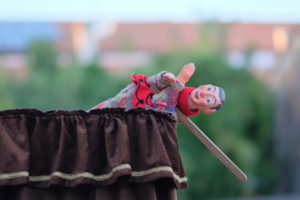 (Cat) Del 8 al 24 de juny de 2021.
Rutines
Routines is a glove puppet show with some of the principal personalities of the traditional repertoire that was for centuries performed all over Europe. A show that can be performed almost anywhere, indoors or out, for young and not so young. A succession of comic sketches or "routines" with hardly any words and skilful manipulation. The main character of this performance is Malic, the adventurer, who on this occasion faces the revolt of anything that comes on stage, be it objects or individuals. Slapstick comedy at its best.